Guaranteed 510(k) Software Docs in 3 Months
The Problem
You're hoping to submit a 510(k) in the next 3 to 6 months, but the software documentation, cybersecurity, and V&V have a long way to go. On top of all that, there are a few more software features that need to be built and bugs that need to be fixed.
The engineers on your team are excellent developers, but they've never built a medical device before. Your regulatory consultants have templates and high-level advice, but they can't write the documents for you.
It's hard to see how all of this will get done in time.
Furthermore, you're worried that if you miss something, the FDA will ask for additional information, leading to long delays or worse—multiple submissions!
Our Solution
Hire us to write all of your software documents for your 510(k). Working with your team, we can finish all of them in 3 months. We're so confident in our process that we make two guarantees:
We guarantee we'll be on time. If we don't complete all of our deliverables within our proposed timeline (typically 3 months), we'll waive 15% of the cost.

We guarantee clearance. If the 510(k) isn't cleared due to an issue with our software documentation, we'll waive an additional 15% of the cost.
Our service costs between $100k and $150k, depending on the complexity of your device's software.
Our Process
It's not uncommon for software teams, even with guidance, to take 12 to 18 months to complete the software documents for a 510(k). How can we guarantee our process will work?
First of all, we only work with clients whom if we're confident we can succeed. Thus, if it turns out we're not a good fit, we'll let you know during our screening process.
Second, we've developed a suite of detailed templates and checklists, along with our own custom document management software, that guide us through the process quickly and efficiently.
Third, our team consists of software-engineers and regulatory consultants, working hand-in-hand.
Our software engineers review your existing documentation and source code. We then follow our five-step process to draft all the deliverables on your behalf and guide your team as they complete them. We'll free up your software engineers' time and decrease the chance of costly delays.
Our mission is to accelerate progress in the medical device industry through our quality services.
See if we can help you with your 510(k) submission:
Deliverables
Our deliverables comply with the following FDA guidance and standards:
Guidance for the Content of Premarket Submissions for Software Contained in Medical Devices
Off-The-Shelf Software Use in Medical Devices
Content of Premarket Submissions for Management of Cybersecurity in Medical Devices
Various AI/ML Guidance
Multiple Function Device Products: Policy and Considerations
Design Considerations and Premarket Submission Recs. for Interoperable Medical Devices
Cybersecurity for Networked Medical Devices Containing Off-The-Shelf (OTS) Software
ANSI/AAMI/IEC 62304
General Principles of Software Validation
ANSI/AAMI/ISO 14971
Relevant parts of newer draft guidance
We capture the following information entities as part of our process: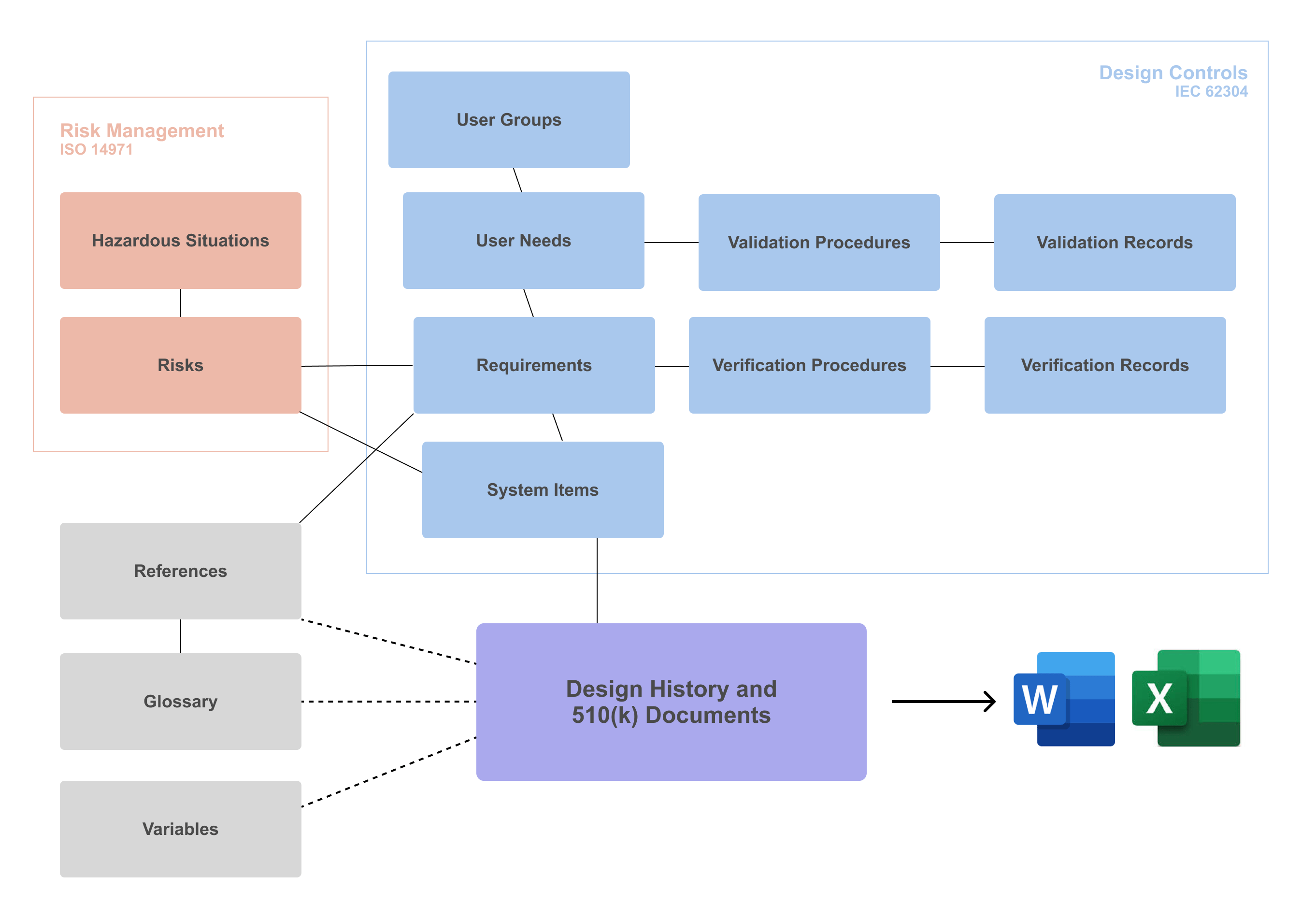 Typical document deliverables include:
Level of Concern
Software Description
Device Hazard Analysis
Software Requirements Specification
Architecture Design Chart
Software Design Specification
Detailed Design Specifications (as appropriate)
Traceability Analysis
Software Development Environment Description
Summary of Software Testing as Part of Verification and Validation
Software System Testing Protocol
Software System Testing Report
Revision Level History
Unresolved Anomalies (Bugs or Defects)
SOUP (OTS) Report (as appropriate)
Software Bill of Materials (as appropriate)
Threat Model (as appropriate)
Cybersecurity Summary Report (as appropriate)