Guaranteed 510(k) Software Docs in 3 Months
Accelerate your MedTech startup's growth
Prepare your SaMD 510(k) in 3 Months
Instead of 12. Then Maintain Your Market Advantage with Agile Compliance
We help engineering teams navigate the FDA and get their software into the hands of doctors and patients. If you don't have a team, we can also help build your software.
SaMD Teams have a Common Problem
The engineers are at capacity building the device's final features, but you still need to complete the design, risk, and cybersecurity documentation for the upcoming 510(k) submission.
It's unclear how everything will be completed on time, and extending the deadline is not an option. You may need to submit your work in time for the next big industry conference, or you may have investor milestones tied to clearance, or perhaps you are just anxious to take your startup to the next stage.
Everyone has templates, but nobody has examples
There is no one-size-fits-all solution. Processes and templates designed for hardware, or Software in a Medical Device (SiMD), will overcomplicate things.
It can be hard to get started without relevant, concrete examples.
Most regulatory consultants are not software engineers. Therefore, while they can provide templates and high-level guidance, they may not be familiar with the tools your engineers use. Additionally, they may not be able to read the code and provide customized advice or concrete examples.
Don't drown in the compliance waterfall
Software changes more rapidly than hardware, often requiring updates to address AI/ML, cybersecurity, and interoperability concerns. The mismatch between regulations written for hardware and the realities of modern software development further complicates matters. Additionally, multiple software-specific FDA guidance and standards must be followed to bring a device to market, including cybersecurity, off-the-shelf software, interoperability, other-device functions, SaMD clinical evaluation, general software validation, IEC62304, and more.
If your team is busy and has no prior experience with 510(k)s, it could take up to twelve months to gather all the necessary information.
The Pitfalls of Doing it Yourself will Waste Time: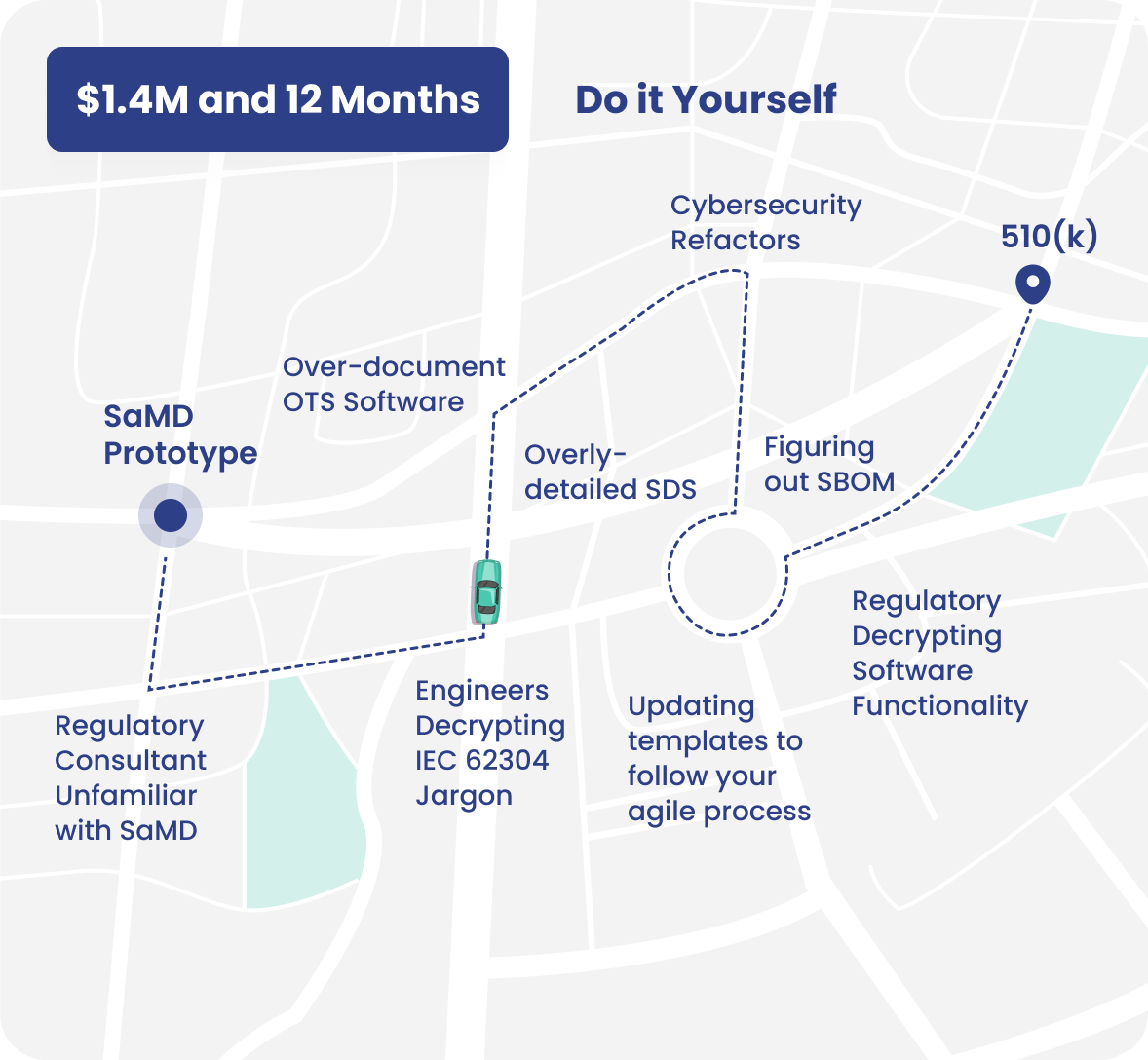 Imagine, instead, that you have someone who will draft your 510(k) documents, drive the process, and save months of effort.
We Can Get You There Faster: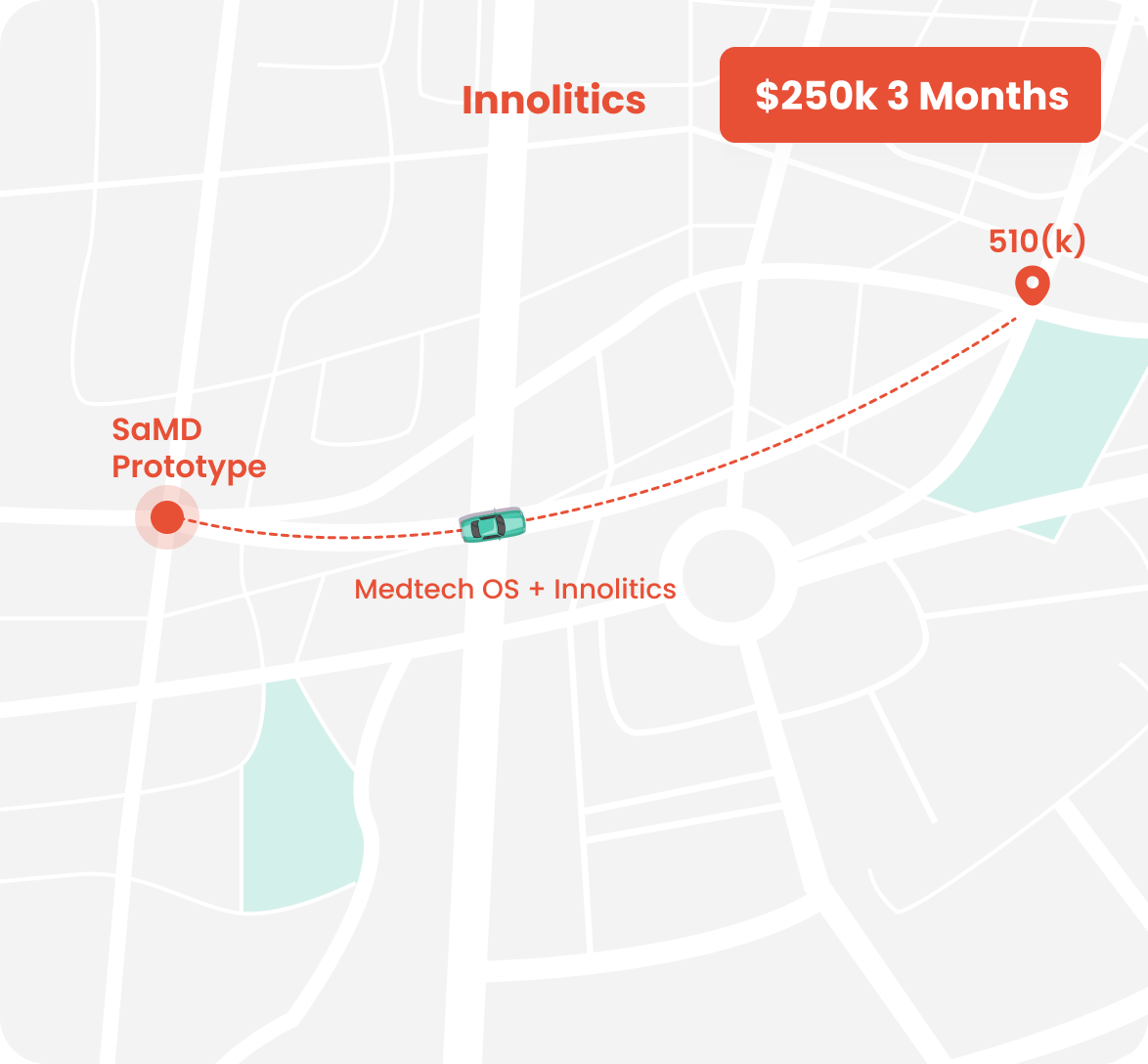 We help our clients accomplish this.
Guaranteed Results
1. Your first 510(k) will be submitted in 3 months
2. Your 510(k) will be cleared
And if its not cleared, it won't be due to missing documentation.
With the aid of Innolitics and their Medtech OS platform, we achieved 510(k) clearance in record time, while requiring minimal resources from our team. In my previous experiences, similar projects have taken ten times longer, but with Innolitics' assistance, we were able to expedite the process significantly.

Hui-Siong Ng,

Senior Product Manager at MD.ai
Thanks to Innolitics, we were able to complete the software documentation for our 510(k) in just 4 months. Their engineers flew onsite to absorb how our software worked and provided detailed guidance. Without their Medtech OS, training, and support, I can easily imagine the process taking 12 months. Our engineering team was able to focus on feature development instead of being bogged down with documentation. We tried three different consultants before finding Innolitics. None of them could deliver. Innolitics took the reins and made it happen. I don't see how we would have completed our 510(k) without them.

VP, Systems R&D at an IVD Startup
Imagine feeling confident that your 510(k) will be done on time…
… and that you have a QMS that keeps your team agile.
Medtech startups can double in value, or even more, upon successful clearance.
What would it mean for your business if you could submit your 510(k) in just 3 months? How would it affect your valuation and investment prospects?
An investor once told me that it would take me $5 million and 5 years to get to where we are now. Innolitics got me here 3 years ahead of schedule and $4 million dollars under budget.

Andrew Smith, M.D. Ph.D.

Professor, Vice Chair of Innovation, Director of AI in Radiology at UAB
What would it mean if your team could compile future 510(k)s in 2 months? How would this enable you to out-compete the competition?
Don't Let Delays Dampen your Vision
Imagine being able to bring your product to market 6 or even 9 months sooner. What would that do for your business? Could it give you an edge over your competitors? What features could your engineers develop if they focused on software development rather than regulatory documentation? How much revenue could you generate if you launched faster?
We collaborate with clients who understand the impact their device will have once it hits the market. They have a grand vision and a long list of improvements they want their engineers to make. Their first 510(k) is just one of many. For these reasons, they are happy to pay an expert firm that can shorten their time-to-market and will set them up with an agile approach to compliance in the future. Every month of delay means lost revenue. Every month their engineers spend working on documentation is a missed opportunity to build a new feature.
The following table illustrates a hypothetical scenario for a company developing a moderately complex Class II device with an AI/ML component. It compares two approaches to completing the first 510(k). The first option involves working with regulatory consultants who may be experienced but lack the knowledge of the latest software, cybersecurity, and AI/ML guidance. The second scenario presents our solution.
| | Do It Yourself | Innolitics |
| --- | --- | --- |
| Regulatory Strategy Accounts for Software Architecture | No | Yes |
| Documents Drafted By | Your Engineers | Innolitics Engineers |
| Traceability Tooling | Excel | Medtech OS |
| Template Style | Abstract | Concrete |
| Template Focus | All medical devices | SaMD Specific including Cybersecurity and AI/ML |
| Learning Guidance and Standards | 5 Weeks | 0 Weeks* |
| Process, Tooling, and Planning | 5 Weeks | 2 Weeks |
| Risk Management** | 4 Weeks | 3 Weeks |
| Software Requirements | 9 Weeks | 3 Weeks |
| Software Design Specifications | 4 Weeks | 2 Weeks |
| Software Verification & Validation | 8 Weeks | 2 Weeks |
| Cybersecurity** | 6 Weeks | 1 Week |
| Misc. Other FDA Documents | 4 Weeks | 1 Week |
| Final Review and Edits | 5 Weeks | 2 Weeks |
| Delays from FDA Questions | 6 Weeks | 2 Weeks |
| Total Time | 13 Months | 4 Months |
| Engineer Costs*** | $325k | $100k |
| Lost Revenue Costs**** | $2.250M | N/A |
| Regulatory Costs | $15k | $150k-$250k |
| Total Cost | $2590k | $300k |
*Once the first 510(k) is your team begins transitioning to take control of the process, they will want to familiarize themselves with the FDA guidance and standards, it's just too costly to create delays before you're on the market.
**These estimates don't include costs related to new software features or fixes identified by these activities
***Cost of time spent by two engineers with a combined total cost of $150k/engineer.
****Assumes $250k in lost revenue per month spent beyond the Innolitics baseline
Our SaMD Development Process

This is not for you if…
You want to check off a box without genuinely trying to make a safe and effective product
You are not interested in creating a culture of quality
You don't believe your device will generate $1M or more in its first year on the market (and thus don't see the value in getting there sooner)
Your product is not Software as a Medical Device (SaMD) Note: AI/ML add-ons to hardware devices can often be a sold as an SaMD add-on
This is for you if…
Your software is nearing completion and you're in a hurry to submit a 510(k) or de novo.
You're looking to set up an agile QMS designed for SaMD.
You're in need of a software engineering team who can take you all the way to market and beyond.
You're confident your device will succeed, you have a big vision, and you see every month of delays as costing hundreds of thousands of dollars.
Why Innolitics?
You may be wondering how we can guarantee that a 510(k) will be complete in 3 months when it often takes more than 12. There are two main reasons:
We speak both software and regulatory; we have a close-knit team of software engineers and regulatory experts.
Medtech OS
Medtech OS
Medtech OS is our platform that we use to get SaMD on the market. It's purpose built by engineers who've struggled getting medical devices on the market the hard way for over a decade.
It's more than an eQMS, it's a fully customizable operating system, built on Notion, that will help your team get to market quickly.
It's the central tool that empowers us to move so quickly.
You are passionate about getting your technology to patients.
We Share this Passion.
Our mission is to accelerate progress in the medical device industry by
providing quality services to our clients
creating tools
sharing knowledge
with the ultimate purpose of improving patient health.
This shared mission is what motivates our team of 20 software engineers and regulatory professionals.
We Speak Both Languages
Our team of software engineers and regulatory consultants have been helping medical device companies get onto the market since 2012.